---

November 2015:
We have very interesting happenings taking place in Uganda involving baseball, softball and the school. As some people may know, Major League Baseball has been running a one week program in South Africa for the last 3 or 4 years the first week of every December. This has replaced the effort MLB used to make in bringing some Africans to their three week camp in Italy each August. In any event, for the first time, two of our older players will be attending that camp. What is special about this is MLB has not seen these two players but are taking our word for it that they are amongst the best in Africa, even though they have only turned 15 recently. We have been notified that a number of Major League Baseball scouts will be at the program and they are looking to see these two players.
In regard to scouts, the Little League Complex will be hosting two scouts from the Cincinnati Reds during the early days of January. They are coming to check up on all our players at the school, including those that went to Williamsport for the Little League World Series. We have already been told the drills that they want our players to go through, including an actual game. In addition, Allen and I will be meeting with a number of teams in Nashville during the Winter Meetings taking place the week of December 6. We hope we can convince Major League Baseball to support the baseball programs we are working on with the Uganda Commissioner of Sports. While most Major League Teams operate baseball academies in the Dominican Republic, we feel that we have a better proposal for them. Everyone knows that the Major League teams cannot touch our players until they turn 16, but they may have the thought that they can then send them to their academies in the Dominican Republic. That has been suggested to us and we have shot it down. All these players speak English and they all need to go to school. With the help of Major League Baseball's Office, we could set up a lot of secondary schools as baseball academies that is also supported by Major League Teams without anyone being signed to a contract until they graduate secondary school. It is possible for the teams and Major League Baseball to take a school for young players and when they graduate they come into that team's program, so that each school becomes like an academy but allows the kids to continue their education without a contract. Since the schools in Uganda are not confined to taking students from within certain boundaries, each school can recruit players, possibly aided by their companion Major League Baseball team. The associated team could also train the coaches and have some significant control over them at the same time.

Starting on January 16, secondary school all star teams will be arriving at the Little League complex to compete for the Uganda National Championship for the S1-S2 level teams. In a year or two, we will add a National Championship tournament for S3-S4 and then S5-S6 a couple years after. This will be the first National Tournament at this level and is being run with the great assistance of the Uganda Commissioner of Sports. This will be a double elimination tournament, but no matter what happens, every team will be playing a game each of the first four days with the championship game being played on the morning of January 21. This tournament, and the eventual other two National Championship Tournaments, will always be held in January of every year.

Prior to the Championship tournament, starting on January 10, we will be running our annual coaches clinic for about 60 to 70 coaches, both new and old. We are going to concentrating on the new coaches going into the Secondary School program and our existing Little League programs. We will try and accommodate additional coaches from programs that we believe will be series in putting together a serious program.

Girls have not been left out of our program. It seems there is an International Tournament that is going to take place in British Columbia in July 2016. Ruth Hoffman, a Canadian, has come to look for players to represent Uganda in this tournament. For the first time in a couple of years, she stopped by with a couple of Canadian coaches to look at our girls. They were impressed and asked for five of them to join the National Team they are putting together. I believe before they are through, they will be taking more. Even though these girls are only 13 years of age, they are amongst the best in Uganda and it is my understanding, this Canadian tournament has no age limit. This gives you some idea as to how far behind the sport is amongst the older players in Uganda. They are also taking our coach, Allen.

At the school, we have a prior visitor who is going to be coming to Uganda for January 4 to teach a program at the school for movie making. This is a pilot program for 20 of our older students. She intends to also film the program as a possible documentary, and if it is successful, it will be a part of the school curriculum. Jennifer has visited the school three years ago and she intends to run the three week program prior to the start of classes on January 24. Hopefully, it makes to your local television station sometime in 2016.

---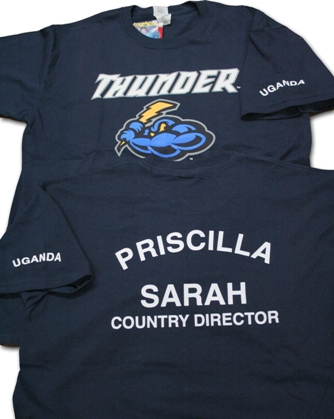 The Trenton Thunder supplied the hats and shirts that the team wore in Poland. The Trenton team was rooting for them to win so that they could come to the U.S. and visit the Trenton stadium and be introduced to the media and the crowd at a Trenton Thunder ball game. Uganda would have been the first African Little League team to make it to the Little League World Series in its almost 80 year history.

---