---
January 1, 2016:

The new year will be here in a few more days after I write this news page. A number of significant things are going to be taking place during my trip to Uganda, which will begin this evening, because a significant number of events have and are taking place in a number of areas.

Baseball: As most people are aware, the baseball winter meetings took place during the first week of December and they were very eventful as far as Uganda was concerned. We were invited to spend some time with Mr. Eric Lee, the assistant GM of the Cincinnati Reds. This was brought about as a result of their Global Scouting Director working with us to arrange for two of their scouts to come to the school the first week of January. Due to time, we are bringing 20 players back to the school to go through certain drills and play a couple of games under the sharp eyes and stop watches and radar guns of the scouts. This is very significant for us and the baseball program in Uganda. It marks the first time for actual MLB scouts coming to Uganda to evaluate the talent that we have been trying to develop.

Prior to 2016, Dave Dombrowski had told us that if we could get about 150 players turning 15 with some baseball experience, scouts would be coming. While we are not quite at that number, Cincinnati is the first of what we hope may be scouts from all the Major League Teams. While they can only be in Uganda during the first couple of days, we hope that future visits will allow us to take them around Uganda to visit all our schools playing baseball on a regular basis so they will get to see hundreds of players. It is wonderful that Cincinnati has seen fit to send their scouts, and I am sure others will be following. Where is Major League Baseball International? We have been trying to get to them to begin to work with the Uganda Commissioner of Sports on rapidly expanding the talent pool of Uganda baseball players. Five years ago, during what was then our first clinic, and two representative of MLB's envoy program working with us wanted to know how serious we were in Uganda. Their question to me was what would happen if something stop me from coming to Uganda. The short answer at that time was that it would collapse. That is why Allen Vivian was brought to Nashville in December.

Allen Vivian and I spent time with the International Scouting people and GMs of Boston, New York Yankees, Detroit Tigers, LA Dodgers, in addition to Cincinnati. Her comments and speech answered many of the questions I got five years ago and said Uganda is very serious about baseball and softball, and we are doing it now! We also spent some time with David James of the RBI program of Major League Baseball. David and us are trying to work on getting a team of 15 year old players to come to the U.S. this year, possibly in April. The object would be to do something in regard to Jackie Robinson Day and have the Ugandan kids play 8 to 10 games in as many days so that more scouts could see some of the young kids. While the RBI program would not be in full swing in April, we are hoping to fill in the schedule with local Varsity High School teams.

In the meantime, starting on January 10 in Uganda, we will begin our seventh annual two week coaches clinic for 60 to 70 coaches and umpires. Part of that clinic will include the first Secondary School National Championship Tournament for kids in S1 and S2. It will be a double elimination tournament starting on January 17, with the championship game played on the morning of January 21. This tournament will be run every January under the direction of the Uganda Commissioner of Sports and Uganda Little League. It consists of the all star teams of eight leagues coming to the Little League Complex to compete. Possibly as early as next year, a second National Championship Tournament will be added to this one when the players move up to S3 and S4. A third will come shortly after that as the kids move to S5 and S6. Thousands of kids will be playing to get into these tournaments every January. When that happens, we expect to see many visitors from Major League Teams watching these tournaments.

Softball: The annual January clinic is also for softball coaches and umpires. This year, Uganda is expecting to send a team to the World Championships in British Columbia in July. While there is no age limit, it is expected that the Uganda team will consist of more than half of the players from the AVRS school team that went to the Little League World Series in August of 2015, even though they will only be turning 14 in 2016. A statement like that demonstrates the progress we have made, but also how far we still need to go. But it is a start and Allen Vivian has been asked to be one of the coaches.

School: In late January, the AVRS Secondary School of Math and Science for the Athletically Talented will begin its fourth year. With what we have accomplished in athletic competition and academic program, we are developing a significant following and many more applicants are applying each year. What this means is that both are academic ability and athletic ability is improving each year as we become more selective. In turn, we continue to make great strides with our capitol structure so that are facilities both athletically and academically are the best. We are getting there as great progress is made every year. We are in the process of being accredited by the Middle States Organization out side Philadelphia. It may take longer than 18 months, but we are in the process.

Starting on January 3, one of our past visitors to the complex of two years ago is coming with a crew to run a three week program on film making. It will be for half of the students entering their fourth year at the school They will be shown how to write, act, direct and film a short movie. At the same time, I have asked them to make a documentary of what they are doing so that maybe that will make it one day to American Television. Look for it late in 2016. It is possible that they may also film the drills that the Cincinnati scouts put some of the baseball players through during their visit to the complex.

Breast Cancer: The Uganda Breast Cancer Clinic Directors will be meeting in Kampala early in January to plot our future course. We currently believe that we will be opening the Breast Imaging Clinic sometime after July 1, 2016. How we want to operate and when is up for discussion. The new instrument that we fully expect to replace mammograms and thus eliminate benign biopsies is in the final stages of FDA approval. Supposedly, it is better than originally imagined and is constantly being improved. The instrument is available for us to obtain as of January 1. How and when and where we operate it are the questions that need to be answered. Three years ago, we thought we would need to raise $3 million to operate it as a free clinic. The people who thought they could obtain the money found it very difficult to do. We were originally going to operate it as part of a clinical trial. That is no longer needed, but money is still hard to obtain. After this January meeting, we should have a pretty good idea of what we need to do to become the first African prototype program that may eliminate benign biopsies and enable breast cancer to be detected long before it requires any major surgery. We will keep you informed of our progress. If you wish to join us, please feel free to contact us. info@UgandaLittleLeagueBaseball.org

---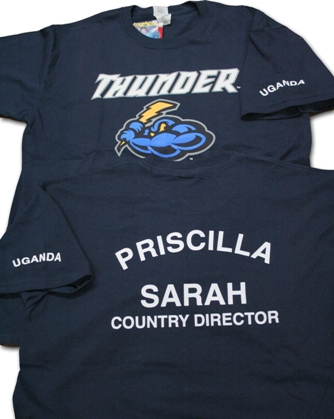 The Trenton Thunder supplied the hats and shirts that the team wore in Poland. The Trenton team was rooting for them to win so that they could come to the U.S. and visit the Trenton stadium and be introduced to the media and the crowd at a Trenton Thunder ball game. Uganda would have been the first African Little League team to make it to the Little League World Series in its almost 80 year history.

---