---
April, 2016:

Spring is upon us in the U.S., but in Uganda, the weather remains the same as does the length of day. But other things are really changing rapidly. The recent presidential elections in Uganda forced us to delay opening the school by four weeks. Our first term will thus be lengthened until May 6, extended by three weeks to partially make up for the late start. Our annual welcome to the school party for the forty new students in this years S1 class thus was not held until March 18, four weeks into the new term. It still was a big hit with all kinds of performances put on by the students. It started at 2PM and did not end until 11PM. It ended at that time because there were several games being played the next day against visiting teams and the Head Master felt it was time to get to bed.

During March 12, the winning athletic/academic teams for last years S2 and S3 classes were treated to a day at the beach and a lunch and dinner away from the school. A great time was had by all, which is a great incentive for the teams in this years S2, S3 and S4 classes to work on their weak teammates in academics and athletics in order to win this year's competition. The teams were reorganized this year entirely by each classes designated captains.

Baseball and Softball:
This years National tournaments will take place starting on May 9 for eight teams of boys 11-12 years old and 4 teams of boys 16 and under. This week of games for the boys will be followed by the girls tournaments starting on May 16. Once again there will be a double elimination tournament for the eight teams of 11-12 year olds, with a championship game scheduled for Friday morning. The older teams will play each other for the first three days and their championship game will be played on Thursday morning amongst the two best teams.

It is our expectation to send three teams to the Europe/Africa Little League Regional Tournaments. The only team we will send to Kenya for EU visas will be the 11-12 year old boys so they can play in Kutno, Poland. We do not want to make the 16 hour bus trip each way to Kenya just to have everyone fingerprinted. The boys will be playing in the 16 and under tournament which will be played outside Milan, Italy. We expect to send the girls to the 16 and under tournament in the Netherlands, even though most of them will be only 13. We are doing this because they are the only tournaments where the embassies for the EU visas are in Kampala, thus avoiding that long bus trip to Kenya. All these problems would go away if Little League International would allow Africa to hold their own Regional Tournaments. We know the countries surrounding Uganda have Little League programs that would supply us with at least 3 or 4 teams other than ourselves, not counting South Africa, Cameron, Ghana and Nigeria. We could host them all at no cost to any of the countries other than to travel to Uganda. Unfortunately, none of them can afford the money to get them to Europe and thus their competitive level remains very weak.

Speaking of Baseball, there is a Japanese program to start a baseball league with no age limit and it started about three weeks ago in Uganda. There are about seven teams, of which 6 are composed of adults and the AVRS composed of 13-15 year olds. The problem is the program will pay for half the transport of 13 participants per team, much better than nothing, but basically, each team plays only one game per month through November. We do not want to travel any distance to play only one game as it disrupts what we are doing at the school the day we are supposed to play. We asked to play two games on the same day, saving some travel money and allowing us to bring two teams, so at least 20 of our players can play on that day while the rest of the boys stay at the school and play amongst themselves. Well Friday was our fist scheduled games, and even though we only allow our pitches to pitch three innings, thus using three pitchers in each game we play, and having two different teams represent us in the two games, both games were won easily, with the second game being mercy ruled. That may sound that our players are very good, but it is more a reflection of the quality of play of the adults in Africa. Right now, our AVRS team of 14 and 15 year olds is probably the best in all of Africa. But since there is no Africa Little League tournament, we may never know for sure. We will welcome any team that wants to play us to come to the school. We always feed our opponents lunch when they come, and we will do the same for those that want to come to beat us in boys or girls. We just want good teams to come to give us an incentive to get better.

Construction:
On May 1, construction will start on the arena. The plans have all been approved and this will probably be the best area to watch a game indoors anywhere in Uganda when it is finished. The main building for playing surface will be finished by December with the locker rooms, meeting areas and VIP suite done by early 2017. The facility will have 4 locker rooms and two sets of toilets and showers so one game can immediately follow another without anyone sharing locker rooms. It will also have a deep stage at one end for plays to be performed, dance recitals, movies to be shown, music concerts and other large gatherings. We expect it to be the home for the Ugandan National basketball team and other potential Ugandan Olympic teams. After this construction we will work on the 400 meter eight lane running track and then a swimming venue for International competition. In the mean time we are drilling bore holes to increase our drinking water supply and fencing for fields and site security. We still have a lot of things to do yet, but we are getting there, year by year.

Our reputation is spreading as we continue to make progress. During the tournament we expect to host at least 4 teacher/coaches from each of 4 government secondary schools to train them to become good coaches. We and the Uganda Sport Commissioner and their respective Head Masters expect them to go back during the second and third school term and each have four teams of S1and S2 students playing at least two games per week and practice during the daily Physical Ed. classes. Thus each school is expected to have a four team league where at the end of the year, they will have a league winner. The winning coach will collect a prize of cash and will bring a team of his best league all stars to compete against all the secondary schools at the Little League complex for the National Championship each January. The goal of the Head Master's Association is to have at least 40 government schools eventually participating, plus all the private schools that wish to join at the S1-S2 level, then the S3-S4 level and eventually to the S5-S6 level.

In January, 2017, we are planning to finally start up the breast cancer screening clinic using the new Ultra Sound device that will eliminate the need for 80% of the unneeded biopsies. We had a meeting with the USAID people at the U.S. Embassy in March and they were very helpful in their suggestions. While congress will only allow them to support communicable diseases, they were not restricted from offering advice on other sources. We look forward to continued communications between us and the embassy people. We are looking forward to possibly hosting the new U.S. Ambassador at the complex sometime in May or early June.

---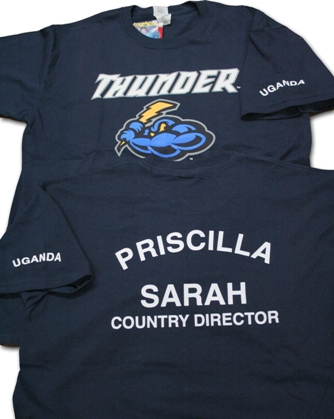 The Trenton Thunder supplied the hats and shirts that the team wore in Poland. The Trenton team was rooting for them to win so that they could come to the U.S. and visit the Trenton stadium and be introduced to the media and the crowd at a Trenton Thunder ball game. Uganda would have been the first African Little League team to make it to the Little League World Series in its almost 80 year history.

---