---
July-August, 2017

May and June are always very busy periods for Uganda Little League. Having been banned from participating in Little League Regional Tournaments that they refuse to schedule in Africa, none the less, we continued holding our own Little League tournaments for boys and girls age 12 and under and for older boys and girls. We started in early May with our double elimination tournament for the boys first, followed by the girls. The quality of play has dramatically improved in a number of leagues. AVRS still won the championships in both the boys and the girls tournament, but the games are getting closer and the overall play is improving. The Gulu, Lira and Soroti programs held their own elimination tournament to try a cut down on the total cost of coming to the complex, and thus sent only the winner of the program to the complex.
In the older boys and girls program, AVRS did prevail in the boys program, but the girls tournament was in a 2-2 tie in the fourth inning when heavy rains came to end the game. Teams from Luwero are becoming very competitive with AVRS, while Lugazi is always putting together competitive teams.

In other baseball and softball news, the Uganda federation continues to try and run their program for the adults. They started in March of this year trying to have teams from various parts of the country play about one game per month for a total of 12 games. They were trying to do the same for the girls in softball. The Japanese charity gives them money to run this league. We refuse to travel to play only one game, so when we do play, we play against two different teams on that day. The girls softball program lasted until the first week and then no one wanted to play any more. I believe that the main reason was that the AVRS girls destroyed the supposedly two best teams the one day we actually played back in March. Now evidently, no other softball programs exist in Uganda for older girls.

The boys program does continue. There are seven teams playing in the boys section. In the first six games that we have played in, four ended with us winning by mercy rule. The only games that ended after 9 innings was the games we played against Lugazi and Luwero. We won both of those games by a margin of 6 runs each, but they are somewhat competitive because they are running legitimate Little League programs feeding into their adult teams and they are being run by coaches who care about teaching kids how and play and developing their talents. Those two teams contain a lot of young teenage players. The other 4 teams are mostly Federation people with mostly 20 something players, and winning there by 21-2, or 10-0 or 14-3 in 4.5 innings accomplishes nothing. But this is what the federation wants to do. Unfortunately, most of these games are played at the field the Japanese built several years ago, and it is deteriorating, and also getting dangerous. The Japanese know this, and are trying to get money to fix it, but have not been successful. In summary, the only place the girls can play competitive games is amongst themselves at the complex. The boys are the only team in this so called adult league undefeated at 6 and 0 as this is writing having played half way through the 12 game schedule.

A very Sad Note: In late May, we lost the most memorable of all umpires. Chan, who came from Taiwan about 9 years ago to teach baseball to Ugandans and umpired all our tournament games in January and May, and also umpired and coached all the boys and girls at the AVRS school and lived at the school, passed away unexpectedly. He will always be remembered at the school and by many others as the only umpire that would umpire baseball games with only a mask. The four championship games that were part of our four May tournaments, all the umpires agreed that he should be given the horror of umpiring them from behind the plate. I had the pleasure of having him as my partner for the older girls tournament and thus worked with him as a partner on the last 4 games he umpired.

On July 29, a team of 14 players from the AVRS school will be coming to the U.S. to play a number of games. The team will consist of boys no older than 16. We cannot thank the U.S. embassy enough for how nicely the team was treated in obtaining their U.S. visas. Their only request was to send them pictures, and an invite to the ribbon cutting ceremonies when we open the new arena at the complex in a couple of months.

Last May, we were invited to come for a 7 day program in Toms River that would be held starting on August 5 where the boys would play 2 games per day for the seven days. They would be housed and fed by the local people upon their arrival. In Late 2016, Major League Baseball found out about this and asked if we would be willing to come a few days earlier and travel to Cincinnati, Ohio to play a number of games against teams in their RBI program. Uganda has been a member of the RBI program and we know they run tournaments for boys 18 and under, 15 and under and for girls softball 18 and under. Our problem is no foreign teams are allowed to participate as we cannot participate in a qualifying tournament. While the tournaments are being held in Cincinnati, we would be able to play some teams there and possibly go to the championship game at the Major League Stadium while in Cincinnati. We agreed to do this and now we are trying to work with Major League Baseball on getting them to allow International teams to play in a true World Series of RBI teams for boys and girls. Can this happen in 2018? We do not know that at this time, but Uganda would certainly love to participate and we could use the Uganda Commissioner of Sports National Championship tournaments, held each year, as qualifying games. This would really expand baseball and softball in the Ugandan Secondary Schools much faster than currently and develop a lot more athletic talent in Uganda. Along those lines, the Commissioner had 11 head masters who are serious in developing baseball and/or softball in their schools come to the Uganda Little League complex to obtain donated equipment. On the day they came, we gave out 20 sets of catchers equipment 200 bats, 240 gloves, 20 dozen baseballs, 12 dozen softballs 70 helmets, and believe it or not, over 700 tennis balls. We have players play with tennis balls when we do not have gloves or helmets or catchers equipment to distribute. Our biggest needs are catcher equipment and gloves, then come softballs and baseballs and helmets.

Back to team travel. The team will leave Uganda on July 29 and arrive in Philadelphia on Sunday morning July30. They then travel to Cincinnati and play a game on Monday, two on Tuesday and two on Wednesday before traveling to Toms River N,J, on Thursday. On Friday, August 4, they will work out in Toms River, take part in a soccer showcase and attend a Trenton Thunder game that night. On Saturday, the Toms River program starts and they will be playing games there through Friday, August 11. On Saturday and Sunday, August 12 and 13, they will be playing games in Philadelphia again as part of the RBI program. On Monday morning, August 14, they will board a plane in Philadelphia to head back to Uganda with an afternoon arrival at Entebbe airport. All these events are what is called showcase events. The main purpose is to show their talents and hope to convince college coaches to give them scholarships to play baseball or soccer, or both, at their colleges or junior colleges. Every Major League team knows they are coming and will certainly have scouts at these events. The most important thing for Uganda is to get the scholarships as that will bring more government support for developing athletes in the school program in Uganda. Getting an education is something that no one can take away, while making it to a Major League "is very difficult, if not almost impossible." Our goal is to get coaches of all sports to learn that there is great athletic talent in Uganda and they need to begin to recruit there.

---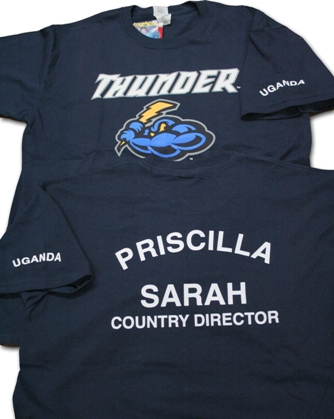 The Trenton Thunder supplied the hats and shirts that the team wore in Poland. The Trenton team was rooting for them to win so that they could come to the U.S. and visit the Trenton stadium and be introduced to the media and the crowd at a Trenton Thunder ball game. Uganda would have been the first African Little League team to make it to the Little League World Series in its almost 80 year history.

---